I started Van Vliet Arts in 2005 as a way of bringing together my three artistic loves: poetry, painting, and jewelry design. Whether I am writing, painting, or creating jewelry I face the same puzzle. It involves the question of placement and the creation of an architecture. The architecture must hold in place the juxtaposition of image, color, word, or shape. As I explore these different genres I realize time after time how each informs the other. That as I choose color and pattern in making a necklace I am sharpening the tool I use for choosing words and patterns in a poem. As I lay down images in a painting I am using the tool for which in poetry I place images on the page within a poem.

If you are interested in purchesing any of my work please contact me for avalibility and prices.

Click Here

.
Artist Statement: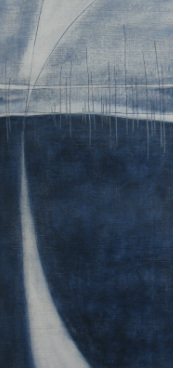 Karla Van Vliet is a painter, poet, and student of the dream. Van Vliet has long been fascinated with creating meaning and opening places of feeling by generating marks on the page, be it letter or character, dendritic form or simple line and shape. Her work originates from the practice of listening inwardly for what wants to arise and be expressed. From this Gnostic perspective, creation and content rise from the feeling, knowing self. Van Vliet works mainly in acrylic, on canvas and paper and ink on paper. Recently she was inspired to begin a body of work she calls scored paintings; a technique she created. The process incorporates aspects of painting and drawing. She scores the surface of the painting and then applies and removes paint, over and over, as the paint fills in the scoring to create line and form. Van Vliet works with several recurring patterns and images that resonate within her. Another aspect of the paintings is the dialogue between the horizontal and the vertical, a conversation between the world above and world below, the outer world and inner world. These scored paintings have informed her works on canvas where she has integrated this way of working with form, line, and color. She also employs this scoring technique with ink on watercolor paper. The pieces arising from this method have been mini portraitures of women. Van Vliet has utilized these miniatures in larger pieces creating congregations of faces on canvases and also showcased particular portraits in larger mixed media panels. Each creating a mood and conversation with the viewer.
Van Vliet has trained extensively in Archetypal Dreamwork through North of Eden, an orginization that works to bring Archetypal Dreamwork to the world, and is a Master Archetypal Dreamwork Analyst. She began training with Marc Bregman, founder of Archetypal Dreamwork, in 1991 and with co-founder of North of Eden, Christa Lancaster and Master Teachers Sue Scavo and Bill St.Cyr, in 2007. Through this work she has developed Art and the Practice of Presence, a way of being in the gnostic space dreams can open in us and the experiential use of art as a container for self-knowing and discovery. (For more information
click here
.) She offers individual Art and Practice of Presence sessions and also leads Art and the Practice of Presence Retreats. As well she runs the New England Young Writers' Conference at Middlebury College. She formed Van Vliet Arts in 2005 as a way to bring together her artistic endeavors. She studied art at Bennington College, received her BA from Goddard College and received her MFA in Poetry from Vermont College of Fine Arts.
---
Education
M.F. A. Vermont College of Find Arts, 1995
B. A. Goddard College, 1991
Study in Painting and Sculpture, Bennington College 1985-1988
Juried Competitions and Exhibitions
2014
Original Works by Local Artists
- Jackson Gallery, Middlebury, VT
2014
State of Beings
- Studio Place Arts, Barre, VT
2014
Likeness: Portraits
- New City Galeries, Burlington, VT
2013
Winter Splender
- Still Point Art Gallery, Online
2013
Projekt30 October
- Projekt30, Online gallery
2013
Still Point V
– Still Point Art Gallery, Online
2012
Women in the Arts
– Chaffee Art Center co-sponsored with the National Museum of Women in the Arts., Rutland, VT
2010
Far East Near East
– The Gallery at WREN, Bethlehem, NH
2009
Champlain's Lake Rediscovered –
Shelburne Farms, Shelburne, VT,
National Arts Club, New York City, NY
Boston Public Library, Copley Square, Boston, MA
Southern Vermont Arts Center, Manchester, VT
Vermont State House, Montpelier, VT
2006
Helen Day Art Center's For Art's Sake
– Stowe, VT
2006
A Brush with the East
– Gallery at the VAULT, Springfield, VT
Other Exhibitions
2014 Winter Nights - ZoneThree, Middlebury, VT
2014 Discovered Poems: Solo Show - Living Room: Center of Positivity, Essex Junction, VT
2014 Small Pieces - Walkover Gallery, Bristol, VT
2014 Members Art Show - Helen Day Art Center, Stowe, VT
2014
Autumn All Members' Show
, Chaffee Art Center, Rutland, VT
2014
Altered/Altared States - Our Personal Journey Through Dreams
, (with Lily Hinrichsen) - Flynndog Gallery
2014
Discovered Poems
- Zone Three, Middlebury, VT
2014
Fundraising Gala
- Helen Day Art Center, Stowe, VT
2013
Connections
– Walkover Gallery, Bristol, VT
2013
presence // creativity // dreams
– Walkover Gallery, Bristol, VT
2012
Featured Artist
– Falling Water School of Tai Chi Chuan, Middlebury, VT
2012
Night Visions
– Walkover Gallery, Bristol, VT
2011
Conspire
– Adornment Studio and Gallery, Brandon, VT
2011
Featured Artist
– Falling Water School of Tai Chi Chuan, Middlebury, VT
2010
North of Eden
– Walkover Gallery, Bristol, VT
2010
Featured Artist
– Falling Water School of Tai Chi Chuan, Middlebury, VT
2006
Hardscrabble Artists
– Walkover Gallery, Bristol, VT
2006
Featured Artist
– In House, Grand Isle, VT
2006 Green Mountain Fine Art Gallery, Stowe, VT
2005
Merging: Ink and Word
–
Human Hand Gallery, Ferrisburg, VT
Great Falls Arts Center, Middlebury, VT
Artist Member
Chaffee Art Center, Rutland, VT
Helen Dar Art Center, Stowe, VT
In Print
2014
Featured Artist
, Stone Voices, Spring, Shanti Arts, Brunswick, ME
2009
Champlain's Lake Rediscovered, Catalogue
– Willowell Foundation, Bristol, VT
2005
A Brush with the East
– Seven Days, Burlington, VT
Grants
2009 Bristol Friends of the Arts, Bristol, Vermont
2004 Vermont Community Foundation Artist's Grant, Middlebury, VT